Enterprise Architecture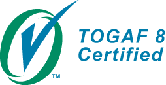 Are your processes, information systems, and personnel aligned with your organisation's core goals and strategic direction?
Sons'India can work through a proven Enterprise Architecture process with you to answer basic questions like:
Is the current architecture supporting and adding value to the organisation?
How might an architecture be modified so that it adds more value?
Based on what we know about what the organisation wants to accomplish in the future, will the current architecture support or hinder that?
Our consultants are fully certified to employ The Open Group Architecture Framework (TOGAF) as a framework for Enterprise Architecture, which provides a comprehensive approach to the design, planning, implementation, and governance of an enterprise information architecture. The architecture is typically modeled at four levels or domains; Business, Application, Data, and Technology.